When it comes to choosing the best materials for your roof, you will need to ask yourself specific questions. Many factors will come into play, such as budget, aesthetics, and even the location and size of the building.
Many homeowners find themselves deliberating between two of the most popular types of roofing materials, namely roofing slates or tiles. In this blog, we'll look at the specifics as well as the pros and cons of each to help ensure that you select the right roof covering - whatever your building project.
Roof slates or roof tiles - do you know the difference?
If you aren't a builder or architect, you might struggle to know the difference between slates or tiles, and the truth is that in many ways they are quite similar: they do a similar job, are laid in a similar way and can look similar. However, there are some important to take into consideration before making a final choice.
The most crucial difference is that natural roofing slate is exactly that - a natural product, whilst artificial slates or roof tiles - whether concrete or clay - are manufactured. Therefore for those looking for an authentic rustic look, slate tiles may well be the more appealing choice.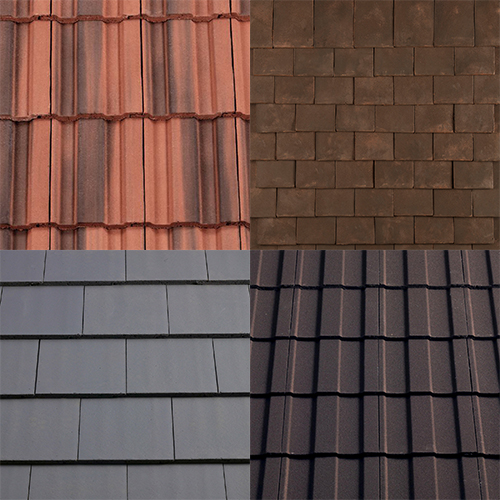 Roof Tiles
Roof tiles are human made, and the manufacturing process involves firing clay or concrete in a kiln. Because they are factory-made, the variety of roof tiles is much wider than natural slate, and the range of styles and colours available is vast. This can make a roof tile more appealing to those who have a specific shade or design effect in mind.
The materials that roof tiles are crafted from are very hard-wearing, and selecting a roof tile means choosing a robust, durable material with an in situ lifespan in excess of 50 years, and often in the case of clay roof tiles, in excess of 100 years.
There are wide range of sizes and shapes with plain roof tiles, Double Roman roof tiles, 49 roof tiles and low pitch roof tiles being amongst the most popular types
Naturally, the price point is also a factor, and roof tiles tend to be cheaper per square metre than natural slate, so are more suitable for projects on a tight budget that require a long lasting, practical roof tile and aren't overly complicated - this applies particuarly to interlocking concrete roof tiles. Roof tiles are very versatile, however, and are manufactured in many sizes, shapes and colours, with a wider range of accessories than slates enabling tiles to be used on hips, valleys and external corners on vertical building faces for example unlike slates. Hence, if the project is more complicated, for example, an irregular roof shape, it is relatively straightforward to order tiles to suit particular needs.
Being man made, tiles do not need sorting and grading on site unlike slates and are usually quicker to lay and fix onto the roof, and so the actual process of completing your project is more straightforward and may take less time too. Many roof tiles can be laid at much lower pitches than slates meaning that they are suitable for lower roof pitch applications such as single storey extensions for example. While roof tiles are generally low maintenance, it is still essential to check the tiles regularly and fix any cracked or broken ones as and when required, and to prevent the build up of moss.
About Roofing stock and supply clay and concrete roof tiles from the top 3 leading manufacturers in the UK: Sandtoft, Redland and Marley.
Shop our concrete & clay roof tiles

Roof Slates
Roof slates are available in two main types: Natural slates and man-made roof slates.
Natural slates vary in colour, composition and texture depending on where they are quarried from, with the most popular types being Welsh slates, Spanish slates and Brazilian slates. They are supplied in a wide range of sizes, however the size is simply an aesthetic choice and has no bearing on the weather resistance or longevity of a slate roof.
Welsh slates have been quarried in North Wales, with the first recorded use of Welsh slate for roofing purposes being on the Seqontium Caernarfon Roman fort around 77AD. Welsh Slate was a particuarly popular roof covering in Victorian times, and remains so today. This is a premium product, quarried by British craftsmen, with demand outstripping supply, hece it should not be viewed as budget choice, rather as a premium, luxury roof covering for projects where price 'is no object'. To discuss pricing and the availability of Welsh slates please call us on 01737 763008 or email us here
Spanish slates have been the biggest selling natural slate in the UK for decades: With a similar appearance to Welsh slates they have striking shade variations, will not fade even in the strong sunlight or harsh conditions, and are available at a fraction of the cost of Welsh slates, and subsequently remain the most popular natural slate year in year out. Quality and subsequent length of guarantee is reflected in the pricing of these slates, however with Spanish slates you are assured of a great looking product, that is relatively easy to lay, and has a long service life.
All of our Spanish slates are tested in accordance with EN 12326, are CE marked, classified as 'W1-T1-S1', and have also been tested to the demanding Norm Français (NF 228) standard which is the strictest slate testing criteria in the world.
Brazilian slate is a mudstone roofing slate with a unique contemporary look and character, mined in south-east Brazil. Mudstone is a sedimentary rock which has similar characteristics to slate (which is a metamorphic rock) and is frequently used as a roofing slate. Geologically it is approximately 100 million years younger than typical slate rock resulting in the material being brittle. Subsequently the hook fixing method by experienced roofers who have laid Brazilian slates previously is recommended.
Man-made slates are a low-profile fibre cement slate that features a smooth surface and square cut edges for a sleek, aesthetically pleasing finish (although other types are available to special order - please contact us for further details). Man made slates, also known as artifical slates, are one of the strongest slates on the market and are popular with architects and roofers, due to their low wastage and ease of installation. They can be used for both roofing projects and for vertical building facade applications. Being recyclable, and having a low carbon footprint, it is easy to see why these slates are a popular choice for all types of new build and refurbishment projects.
Our range of natural slates are supplied by SSQ.
Shop our natural & man made slates
Where can I find roof slates and roof tiles near me?
You can view and order natural and man-made slates, as well as our wide range of clay roof tiles and concrete roof tiles in any of our branches listed below or we can deliver nationwide: